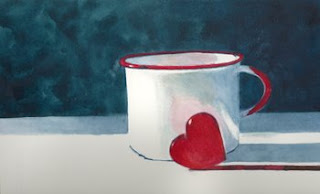 April 7-9, 2009 I had the opportunity to take a watercolor workshop from Arleta Pech. She was here to judge the AANC's National show, and also gave this incredible workshop.
I learned all about layering transparent watercolors. Even for moi, the acrylic painter, this made sense! Arleta has designed the coolest tool to be used with her limited palette that lets you preview what the colors on the palette will do depending on the order you paint them.
She gave us two separate templates for paintings, so we could focus on the painting rather than the drawing. Love that. And she has a multitude of DVD's, where you are given the template and guided through the process. very cool. Have to admit I came home with a few. :) This too was a wonderful class. She is a very open, fun loving person and I think we laughed as much as we painted.