Intuitive Painting Workshops with Cyd Rust
Situated in the beautiful foothills of the Rocky Mountains west of Loveland Colorado. Workshops will take place in Cyd's private studio.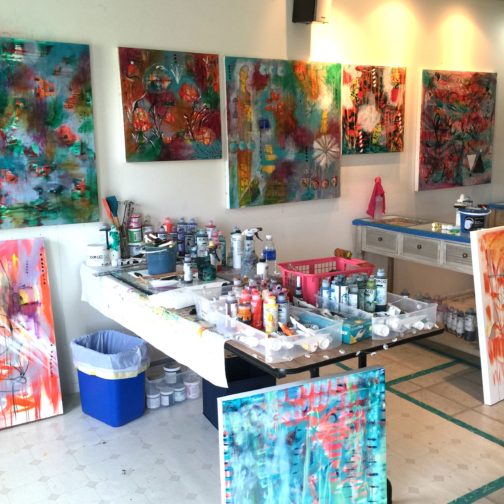 Photo: Paintings End of Day 1, June 2016 Workshop
Workshop price includes all materials:
* 2 Canvases. 30″ x 30″ each
* All Paints and Painting mediums
* All Brushes and Tools
You just need to bring yourself and be ready to have fun and play with paint!
This workshop is for everyone from the beginning painter to the professional needing a mini vacation to learn a new technique and enjoy a weekend of fun and laughter.
Workshops are limited to 5 students allowing for comfort and camaraderie. The small class size will allow for significant one on one time with Cyd.
Because class size is so limited, Space will be filled on a first come first serve basis.
Classes are currently scheduled to run Saturday – Sunday, 9:00 AM to 4:00  PM
.
The Only Workshop in 2017:
October 28th & 29th, 2017   $150.00 
To sign up or get more information:
Email: workshops@cydrust.com
Testimonials:
"Intuitive painting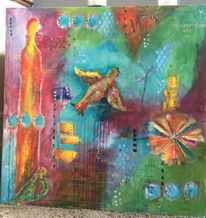 With Cyd Rust was a dream come true for me. I have been attracted to the idea of intuitive painting for a long time, but  could never find a local workshop or artist to learn under. I was afraid to start on my own. With Cyd she took us step by step in creating layers and it was so much fun to see what emerged and then to see how the end piece came together without any idea of where it could possibly be going. Working on the large canvas in her gorgeous studio space with all of her beautiful artist supplies was heaven. Cyd was generous in sharing what she knows and abundantly encouraging to all the students in letting our art out! I highly recommend the workshop! Here is my work in progress…..still needs some tweaking!"  ~ L. Byrnes   Windsor, CO
"This was an amazing experience and I learned so much about myself, this process and painting. It was my first painting class. Cyd was so supportive and loving. We did two paintings and I'm so happy I did this! What a gift to myself this was". ~ S. Mischo  Broomsfield, CO
Open Studio Day with Cyd Rust
Paint along side Cyd Rust in her studio during "Open Studio" days which will be announced periodically throughout the year.
**Taking a workshop from Cyd is a prerequisite to participate. 
More info on "Open Studio" days will be provided at Workshops.