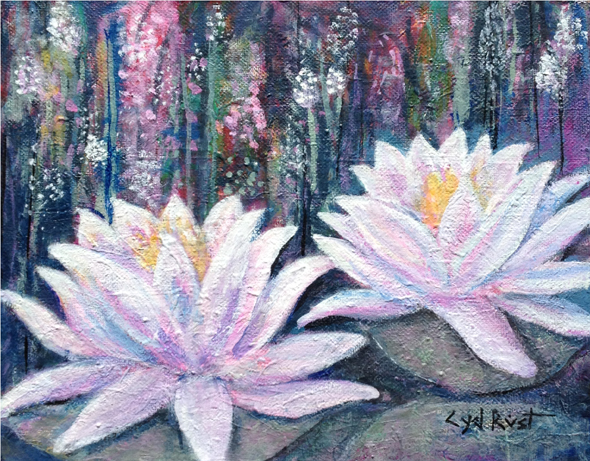 Summer is nearing an end. Kids are either already back in school, or getting ready. And here in Colorado, that means one thing…the hottest days of the year are just ahead of us. It seemed the perfect time for a water inspired piece.
My son's first home purchase was a builder's model home. It came complete with a fabulous waterfall, plantings, and Koi pond.  Over the years the trees and shrubs have grown around the back of it, virtually hiding the fact it is man-made.
The moisture creates such a fabulous environment in our normally dry climate, that Columbine in all different colors gracefully surround the edges, while Water Lilies frequently adorn the pond itself. Koi and Goldfish live within its depths. Mallard ducks, and unfortunately for the Koi, a Great Blue Heron, have frequented it's surface. It is truly a magical place.
In the heat of summer, I would be hard pressed to imagine something prettier, and more cooling than that lovely spot. The colors of the flowers and the sounds of the water falling down the rocks into the pond make me smile.
So during the abnormal heat spell we have been having, it was only natural that one of my intuitive painting leaned towards that beautiful place.
While I confess this painting went a little past the abstraction normally thought of when one speaks of intuitive paintings. And instead, moved closer towards the realism end of the scale. It just didn't matter to me.
To be quite honest, I indulged myself. Water Garden was so fun to create, and it is a lovely little painting, so I just enjoyed the moments, and let it unfold.
Water Garden is an 8″ x 10″ Acrylic on a Gallery Wrapped Canvas.
---